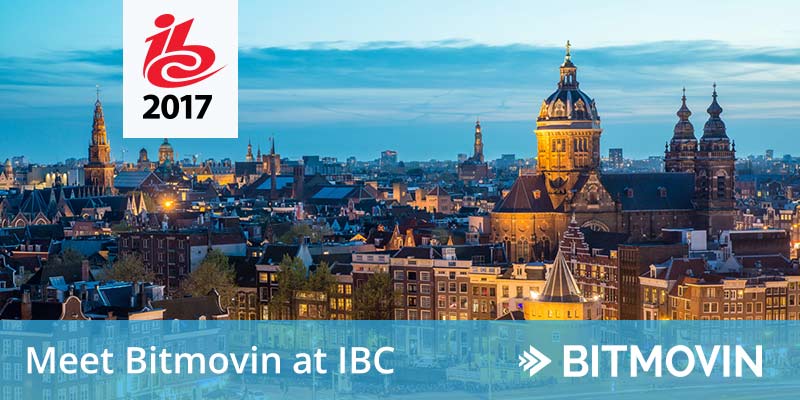 This September Bitmovin will be exhibiting once again at the IBC show with a comprehensive range of live demonstrations to showcase our state of the art video encoding, playback and analytics solutions. Come and see us at booth: 14.E17.
After winning a "Best of NAB Show" award this April in Las Vegas with the world's first AV1 live stream, we have continued to raise the bar in the areas of encoding, playback and analytics. Below are some of the products and features that we will be demonstrating at IBC this year.

Stop by our booth and see our latest demos
| | |
| --- | --- |
| | Managed On-Premise & Cloud Encoding: Save on infrastructure costs, improve performance and increase security by deploying our encoding API in data centers and cloud accounts using Docker & Kubernetes. |
| | Server Side Ad Insertion: Stop losing ad revenue to ad blocking software! Both our Encoding and Player support SSAI allowing you to bypass ad-blockers. |
| | Native SDKs for Android, iOS and SmartTVs: Look out for our new SDKs! In addition to our popular HTML5 player, we have just released our mobile SDKs for Android and iOS. |
| | Live-to-VoD: Encode your live streams to VoD instantly! Our live encoding service makes it possible to seamlessly switch between live, timeshift and VoD versions of the content without re-encoding. |
| | AV1 Livestream: Bitmovin will showcase the first livestream using the new AV1 codec from Google, Cisco and Mozilla showing 1080p playback at 1.5Mbps in broadcast quality. The same quality would require approximately 15Mbps using current technology standards which equates to a CDN saving of 90%! |
| | VP9, AVC, HEVC and AV1 Multi-Codec Streaming: Save up to 50% on your CDN costs! We will be showcasing our VP9 MPEG-DASH live streaming capabilities, together with Multi-Codec deployments using VP9, H.264/AVC and H.265/HEVC. |
| | Video Analytics: Identify problems before they affect users and completely customize your analytics dashboard. |
| | Per Scene Adaptation:Save up to 30% on bandwidth costs with enhanced quality by incorporating quality data into your adaptation logic. |
| | Live VR and 360 Streaming: Stream 360 and VR to any browser on any device! See us showcase our live 4K HEVC 360 live stream from Europe on Web, Mobile and VR headsets. |
Your IBC Contact
If you have any further questions please don't hesitate to contact Dragan Marjanovic via email at [email protected]. Dragan is happy to answer any questions you might have or to help organize a meeting with our team.
Meet Bitmovin at IBC
If your business relies on Video then we would like a chance to show you how Bitmovin can help you to deliver the best possible user experience for your customers. As the co-founders of the MPEG-DASH standard, we are more than just adaptive streaming experts, we helped invent adaptive streaming.
We hope to see you at IBC and don't forget to stop by our booth 14.E17
Use the form below to organise a meeting to discuss your needs.
 [pardot-form height="1000″ id="611″ title="Arrange a Meeting"]