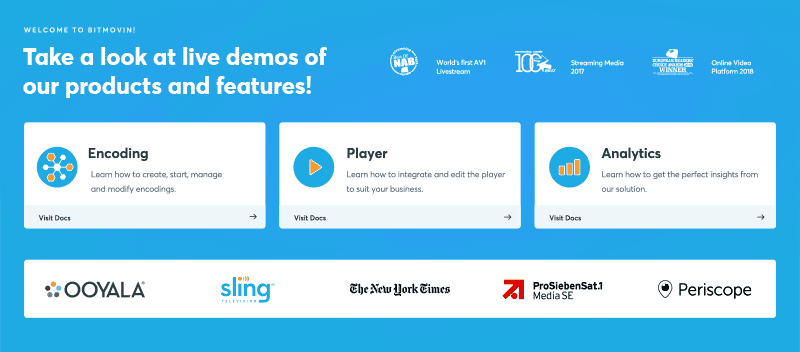 When it comes to media, entertainment and technology, IBC is one of the world's most influential shows . For us at Bitmovin, it is a great opportunity to demonstrate what our tech is capable of to a distinguished audience of industry experts.
If you are coming to IBC this year, then the Bitmovin Stand 14.G09 is definitely worth a visit. For this year's event, we have prepared a showcase of our most recent tech stack – from AV1 and Per-Title to 3-pass encoding and server-side ad insertion, it's all there!
To get personal demonstration of any of our products from one of our video delivery experts, just arrange a meeting.
Bitmovin Player v8: Enter modularity
The latest version of our player is here. The new modular structure allows you to customize the player with exactly the modules you'll need. The new player comes with a reduced footprint while still offering the same rich set of features. This means that the same great player now loads super-fast. Loading times and startup times are make or break in terms of the user experience and the new player is an invaluable asset to deliver on a state-of-the-art UX. Our demo shows how you can slim down the player to only load selected modules – and you'll be able to see how much faster it loads compared to the full codebase.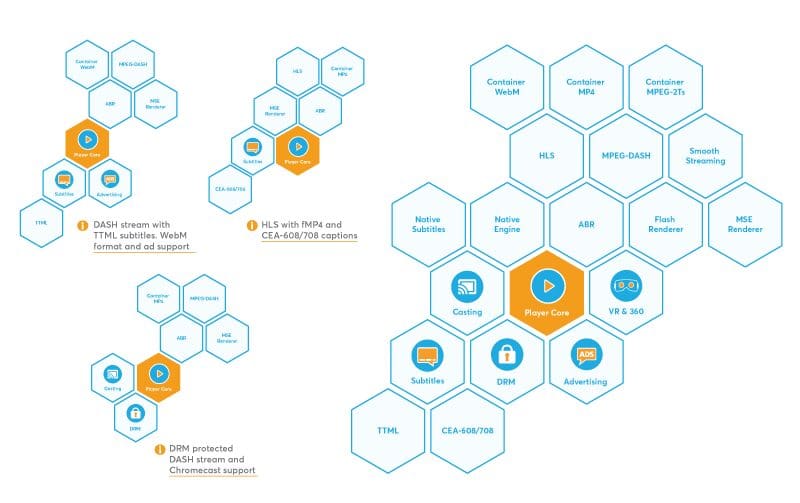 Integration of an AV1 end-to-end workflow
Following the AV1 bitstream freeze in March, Bitmovin is presenting a fully integrated end-to-end encoding workflow using AV1. The encoding requirements for AV1 are high, so it's a definite candidate for our highly efficient cloud encoding solution. Requirements aside, the results are astounding, as you'll no doubt be able to tell from checking out our AV1 demo. AV1 looks better than any other codec at low bitrates and offers tremendous potential to shape video delivery workflows in the near future.
Multi-Codec Streaming
Multi-codec streaming configurations are key drivers in establishing advanced codecs like AV1 on a broader scale. With our multi-codec workflow, we're matching the user's browser or device to the most efficient codec available. Users will get to view the best quality video at the lowest possible bitrate. For providers, this results in noticeable bandwidth savings, while still improving device compatibility. If the best codec (for example AV1) does not play on the device, the stream simply defaults back to the next best alternative (e.g. HEVC).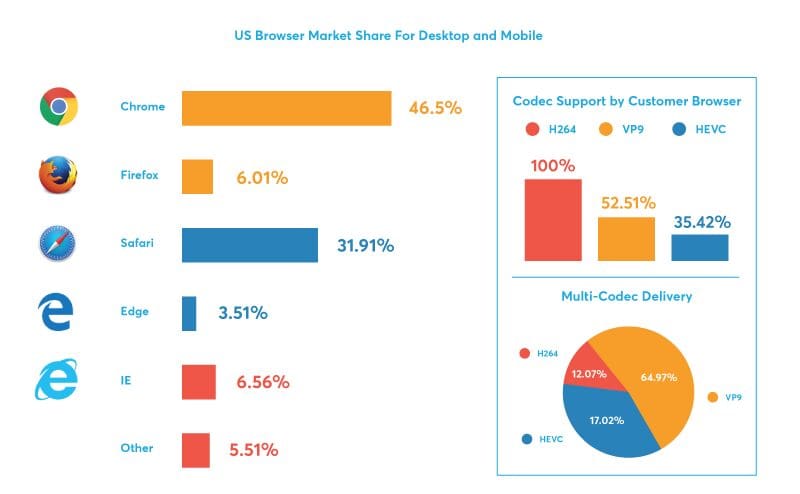 Containerized scalable encoding running anywhere
Efficient video encoding workflows form the backbone of any video delivery infrastructure. Our encoding demo illustrates our smart approach to encoding. Select the input file and an encoding profile and you're good to go. Our encoding processes are easily scalable and can be hosted in the cloud or on premise. You'll be able to see immediately how the different encoding profiles reflect on encoding times and quality by viewing key stats from the process, as well as the encoded video. We build our software-only encoders using state-of-the-art container technology so they run anywhere, including all major cloud providers (check out the demos for Google Cloud and AWS).
Analytics
Video Analytics are key to understanding your user base as well as to identifying advertising opportunities and possible delivery bottlenecks. That's why we keep optimizing our analytics solution. You'll be able to view our latest analytics dashboard and see how we envision leveraging powerful analytics into smart business decisions. Our dashboard makes key metrics visible and presentable, providing you with the insights you need to grow your business. Our API makes it possible to design your own dashboard and get a customized view tailored to your exact needs.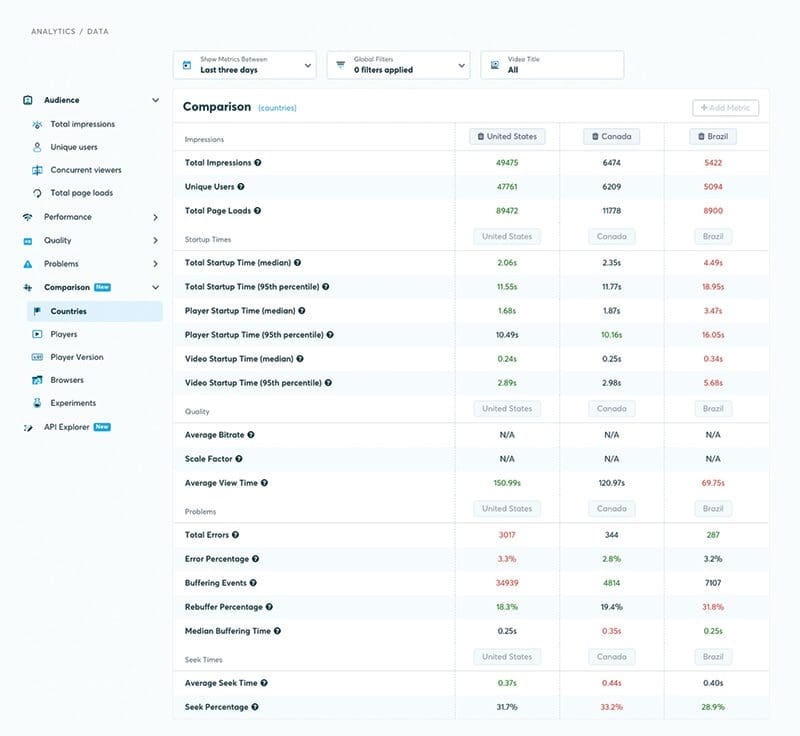 Server-side dynamic ad insertion
Bitmovin encoders and players have been capable of using server-side ad insertion for a while. We now have multiple integrations in leading ad servers. This results in undetectable playback of ads without risk of ad-blocker detection, effectively preventing losses in revenue from unseen ads. The insertion happens dynamically and can be triggered at the mere click of a button in our demo showcase, illustrating the use of HLS cue points to run ads.
Dolby Vision HDR
We have updated our Bitmovin encoders to support pristine Dolby Vision HDR, delivering cutting-edge pictures and an astounding visual experience featuring a depth of color which has been previously unknown to consumer-grade devices. The full experience can be enjoyed on Dolby Vision capable large screen TVs and other compatible devices.
At Bitmovin, we understand that our solutions need to be a joy to work with for fellow developers, in order for our products to become as popular as we want them to be. That's why we put an emphasis on creating great developer tools from the very start. Our range of Native Player SDKs has been growing consistently and allows for a flawless delivery of high quality video on practically any system. They run on Android, iOS, Android TV, tvOS and Fire OS and come with extensive APIs and events. Features like multi DRM support, multi codec streaming, HLS support and more make it easy to integrate our player anywhere.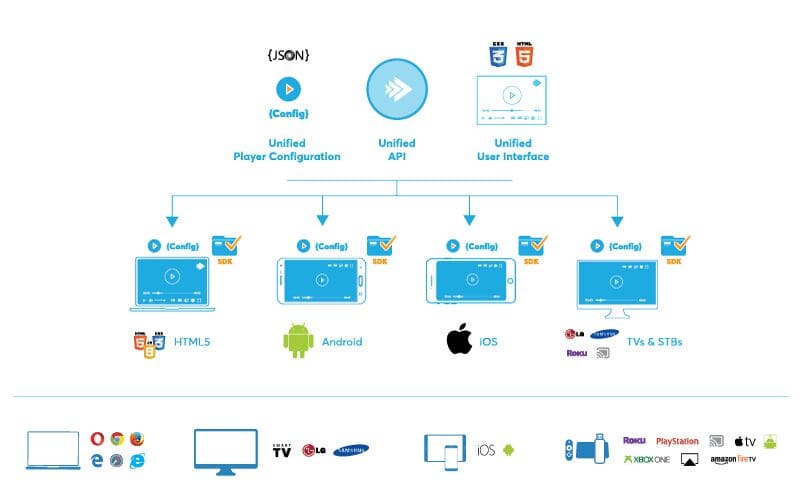 Per-Title encoding
Using per-title encoding, the optimum encoding settings are derived based on predictions for each specific title. The demo shows how the process uses a preceding analysis of the input file to determine the best possible settings, before encoding the video. This results in a greater quality at lower bitrates. You can see for yourself by viewing the encoded video right on our demo page.
Other Demos at IBC
That is a few of the high profile demonstrations that we are promoting at IBC, but there are a lot of others on display. Per-Scene Adaptation is an interesting quality and efficiency optimization technique that involves delivering bitrate information to the player in advance, allowing it to make smarter adaptation decisions. We are also ready to give you a good look at our VR & 360 playback solution, Live to VoD and HEVC/HLS on iOS and MacOS.
Our research and development section offers some very exciting tech including:
Tile Based Streaming –  optimizing 360 and VR streams
Behavioural Playback – enabling the player to react to user behaviour
Clientside Stream Enhancement – applying filters to your video on the client side to improve visual quality.
As well as that we offer a full range of monetization options including: DRM, Multi-DRM and our full range of client-side Advertising Solutions. We also have a partners section displaying many of the integrations that you can find in our software, including partners like: AWS, Google, Scality and YoSpace.
Meet us at IBC 2018 – Stand 14.G09
Our amazing experts will be on-site presenting Bitmovin solutions and sharing the depth of their expertise. See our tech stack in action to experience what state-of-the-art high-end video technology can look like.