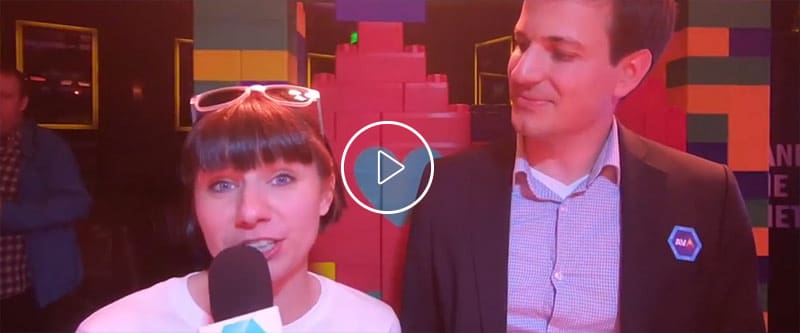 The full impact of the NAB Show 2018 is still settling in around Bitmovin's global offices – record number of Bitmovers and meetings, bigger booth and more and bigger parties. But the real stars were the technologies revolutionizing video delivery on the internet.
This year Bitmovin launched so many exciting innovations that it's hard to fit them all into one post. From products making an impact today, such as Per-Title Encoding, recently adopted by iflix streaming service to deliver HD content over low-bandwidth mobile networks, to groundbreaking technologies, like A.I. Encoding and AV1, the royalty-free codec from the Alliance for Open Media set to deliver 30-40% bandwidth reduction over HEVC & VP9.
AV1 enjoyed an incredible reception at NAB! Bolstered by content providers and browser vendors like Google, Facebook, Firefox & Microsoft among others who praised the new codec for its significant performance gains and transparent, royalty-free licensing terms. In fact, Facebook video just announced trial support for AV1 following their recent benchmarking tests. It's easy to see why this technology is rattling some in the industry and we will dedicate the first installment of our NAB recap to all things AV1 at NAB.
Leading up to the launch
Last year, Bitmovin received Streaming Media's Best of NAB Award for world's first AV1 livestream (almost a year before the codec was formally launched). This year we had so much more to celebrate. At last year's IBC our team showed the same live stream with more than 80% reduction in CPU usage. In November, we partnered with Mozilla to bring AV1 playback to Firefox, as the first browser to play AV1 DASH/HLS streams.
AV1 @ NAB 2018
With the public release of the AOMedia Video Codec 1.0 (AV1) specification just weeks before the show, NAB was abuzz with excitement. Many in the industry met the news optimistically, even as they were trying to make sense of what it all means for the future of media delivery. Bitmovin execs and engineers participated in a number of events with leaders of Strategy and Engineering teams at Facebook, Google, Harmonic, Intel and Microsoft examining the future of internet video and the impact of the AV1 codec.


Bitmovin Codec Engineer Christian Feldmann presenting end-to-end AV1 workflow at NAB
These panels, organized by AOMedia, BEITC (Broadcast Engineering and Information Technology Conference) and the Streaming Summit at NAB, presented the first opportunity for the wider industry to learn about the impact of the AV1 – from the on-demand video, sports, and live events to real-time communications. Panelists discussed the uniqueness of AV1 in creating a royalty-free standard addressing real bottlenecks for unleashing the highest-quality video for the entire ecosystem.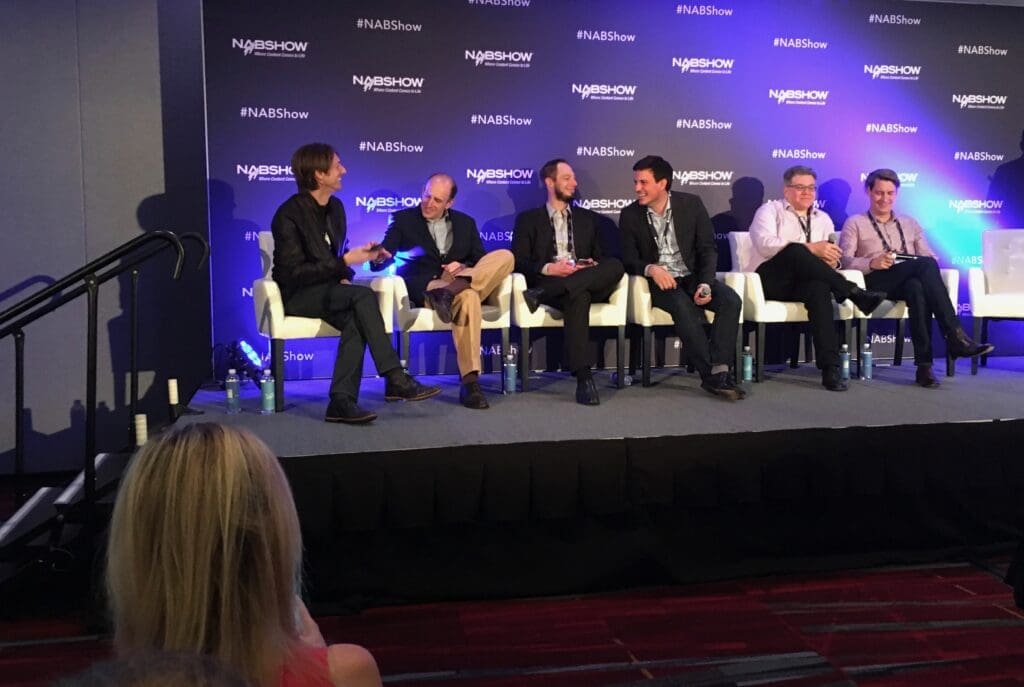 Gabe Frost (Microsoft), Matt Frost (Google), Zach Hamm (Intel), Stefan Lederer (Bitmovin), Mark Watson (Netflix) on a panel of AOMedia member representatives examining the future of internet video and the impact of the AV1
Mozilla-Bitmovin AV1 Popup
On Tuesday, our booth was even busier than usual as codec engineers from Mozilla and Bitmovin gave AV1 demonstrations and answered questions from the discerning audiences. Check out the AV1 demo video presented by Bitmovin Solutions Architect Paul MacDougall.


Nathan Egge (Mozilla), Brian Weeks (Bitmovin) and Christian Feldman (Bitmovin) showing AV1 demos during the Bitmovin-Mozilla AV1 Popup
AV1 Happy Hour
On Monday night, members of the Alliance for Open Media came together as streaming industry peers, leaders and trailblazers to celebrate the future of royalty-free video on the internet. President of the Alliance Gabe Frost delivered the opening address to roaring crowds, Bitmovin's CEO Stefan Lederer presented a vision of the future enabled by open video on the Internet, and David Bryant, a Fellow at Mozilla, spoke about video as part of the organization's mission of building the Internet as a global public resource open and accessible to all.


Party-goers enjoyed passed hors-d'ouevres and an #open bar, while contributing their work towards building the world's first royalty-free AV1 LegoⓇ model.
Stay tuned for the next installment of our NAB recap!
If you'd like to learn more about AV1, we've put together some resources below.