Where our journey to Encoding Excellence began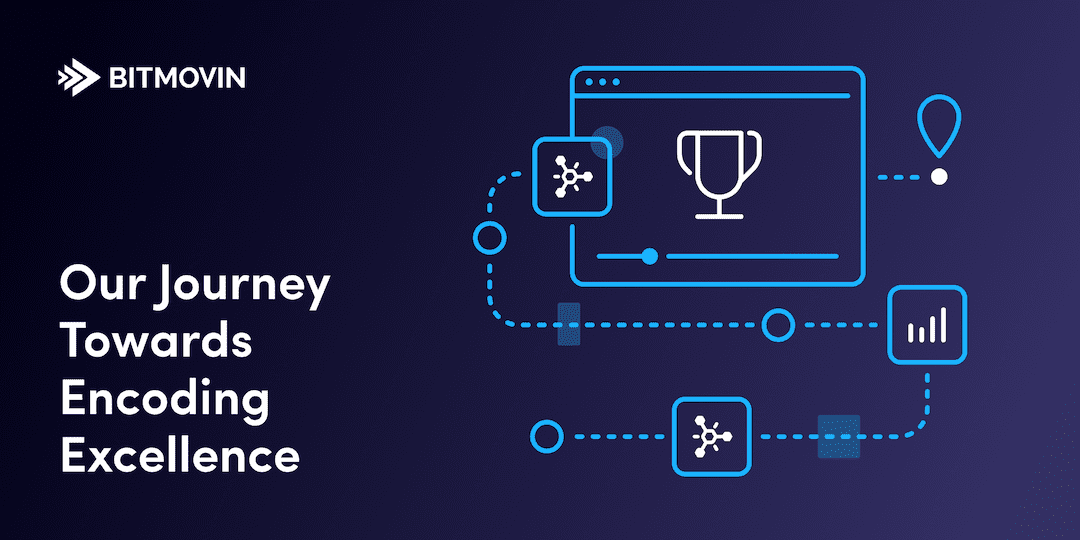 Many of the basic concepts of video coding such as transform-coding (transcoding), motion estimation and compensation were developed in the 1970s and 1980s. MPEG-1, the base coding standard was developed and implemented industry-wide in the early 1990s. Today, compression and decompression mechanisms are the drivers behind the delivery of all VOD services. YouTube, Netflix, CBSi All Access, the STARZ app, and even the new Disney+ app are just a few of hundreds (if not thousands) of services that rely heavily on compression technology. 
In 2013 our founders, Stefan Lederer (CEO), Christopher Müller (CTO), and Christian Timmerer (CIO) co-created the MPEG-DASH video standard to improve the quality and speed of video content distribution as the focus of their Ph.D. research. As a result of this concentrated effort to improve industry standards based on their respective expertise, traction, and success, they founded Bitmovin and continued on their path to improve video efficiency by building new and improved infrastructure products. 
Our drive to provide an excellent encoding service yielded multiple benefits, from faster overall encoding speeds at higher qualities (measured across bitrate variations) to feature additions like machine learning-based object detection in collaboration with Azure or support for Dolby Vision HDR. 
Encoding Excellence in Action
Bitmovin continues in its journey towards encoding excellence and 2019 was the year to showcase our accomplishments in a campaign. Throughout the encoding excellence campaign, we displayed a wide variety of intertwined content pieces, including blogs, E-Books, webinars, speaking slots at industry conventions, and even appearing on a podcast or two; all centered around three value drivers for our customers – Quality of Experience (QoE), Operational Optimization, and Speed to market. 
One of Bitmovin's drivers towards encoding excellence is the inherent need and the expectation of our customers to optimize for perceptual quality. Bitmovers are comprised of very talented engineers, solutions experts, salespeople, and marketers – as such, we rarely settle for anything less than "high quality". Our goal, however, was to not just say things are excellent as a marketing ploy, but rather prove it objectively with tools that developers can test on their own. 


While each step in the campaign can function independently, our campaign took on the Why, How, What approach with our content production and distribution. 
Why?
We first defined "Why Quality Matters" [blog] to video content distributors as they are investing large sums of money on their premium content. Today's consumers expecting an immersive experience and we looked at the responsibilities given to video encoding to achieve it.    
How?
Then we explained "how?" how to measure quality with an introductory blog about the types of Quality Metrics available on the market; followed closely by an in-depth webinar about how to use video quality metrics (featuring Streaming Media and SSIMWAVE). Summarized with how to test (and potentially "break") the validity of said objective metrics during a keynote at Demuxed 2019. 
What?
This all culminated with an objectively measured assessment of our own per-title encoding technologies (as compared to our competitors) by industry expert Jan Ozer. Of course, our preference is our own product, but as planned, we set up a system that enables you, the developer to objectively determine what encoding excellence means for VOD, OTT, and streaming services.
The next driver of our efforts is to provide flexible configuration options to achieve the optimal balance between cost, quality, and performance. We started with a foundational overview on  What is encoding and adaptive bitrate? This quick refresher was followed by a beginner crash course for video app development. Enabling premium content for paid subscribers in increasing in quantity and complexity and with this course we wan to guide video development professionals to success. 

The future of Encoding
More advanced encoding optimizations are powered by client-side analytics. Technical and business decisions can easily be made to optimize quality and reduce costs when this data is presented in a meaningful, action-oriented way. This is why we encouraged our readers to further examine their metrics and analytics using our very own Bitrate Heatmap tool to optimize for quality and delivery based on bandwidth in a very visually appealing style (see below).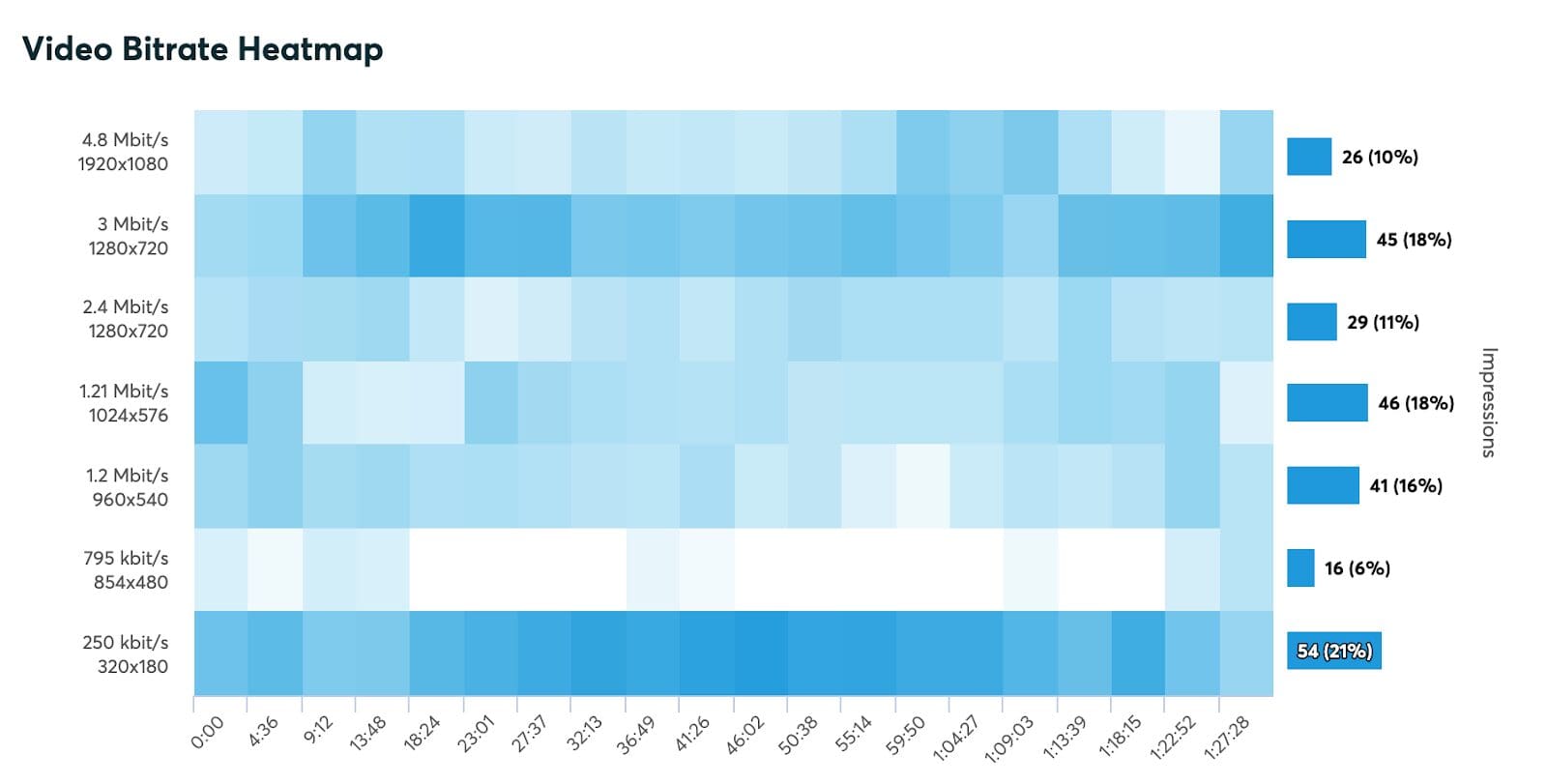 Who is on the journey with us
Quality is no longer a luxury, but rather a necessity. With content-spend at record highs and the explosion of streaming services available to consumers, perceptual quality expectations must be met, and it starts with encoding.
The head of the largest mass media group in Latin America's online video platform had the following to say regarding Bitmovin and encoding excellence: "Globo is known to set quality standards. We want our viewers to experience our great content in stunning video quality. Our 4K workflows have been relying on hardware encoders, but we wanted to test the power of the cloud and conducted a thorough vendor evaluation based on video quality. Bitmovin's encoding quality and speed convinced us across the board. And, since using Bitmovin's cloud encoding service, we are spending a fraction of the cost by bringing our capital cost down without spending more on operational cost."
Bitmovin has been recognized for its encoding excellence by customers and industry organizations alike. Publications like Streaming Media's 2019 Europe Readers' Choice Awards recognized Bitmovin as the best Online Video Platform and best Cloud Encoding Solution for the 3rd consecutive year in a row. 


We look forward to the future of video as we continue along our journey to Encoding Excellence and we can't wait for the interactions and learnings that come from our partners, customers, and own team!