**Updated in 2021**
Apple surprised the video ecosystem in January 2018 by joining the Alliance for Open Media, the consortium standardizing the next-generation video codec AV1. As of 2021, the consortium has made significant improvements to the application and reach of the open standard codec, with at least 11% of Global Video Developers indicating plans to implement support in their workflows. At the time of this announcement, Bitmovin was pleasantly surprised since Apple was one of last the major voices missing from the discussion. However, quickly following Apple's involvement – Samsung joined as governing member in early 2019 followed quickly in suit by Tencent in October 2019.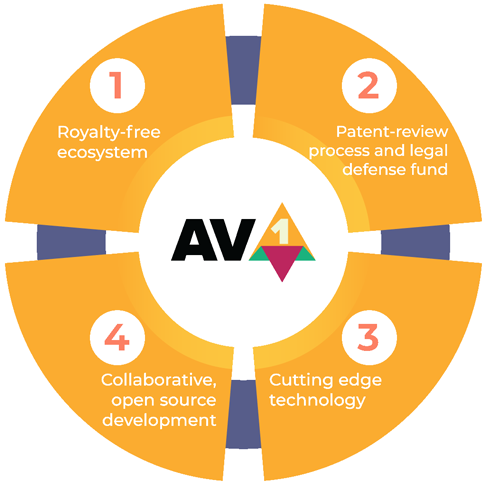 And it wasn't just us, other industry professionals echoed the same sentiments including Matt Frost, head of media strategy and partnerships for Google's Chrome team. "It's definitely a pretty significant development and a sign of how times change and persistence pays off," he was quoted saying by CNET.
What does this mean? What is AOMedia and AV1?
How are video publishers and viewers affected by this announcement? To understand the implications, first, you'll need a bit of background on AOMedia, AV1, and HEVC (you can skip this if you're already a video geek):
AOMedia – Alliance for Open Media is a consortium of companies that are contributing resources such as labor time, money, or patent legal research to create a truly open video codec that is unencumbered by high royalty fees seen in older codecs.

AV1 – This is the open-source video codec created by the Alliance for Open Media. It offers significant bandwidth savings, especially compared to popular codecs in use today such as H264. The goal of AV1 is to offer high quality at a lower bit rate without royalty payments required from publishers or viewers.

HEVC – This is a direct competitor of AV1 that is in use today in a limited capacity as an improvement upon H264. The online video streaming industry has

expressed concerns over the high cost of licensing HEVC

which was a partial motivation to create AV1.
Why is this announcement so important?
This announcement is surprising because Apple has previously committed to supporting the HEVC codec across macOS and iOS devices and has been implementing HEVC across multiple platforms for the past few years. Further, Apple has historically been very selective in joining any industry consortia, typically favoring only official standardization groups such as ISO/IEC, W3C, DVB, IETF, 3GPP, etc. As such, one could interpret Apple's joining AOMedia as a strong accolade for the consortium and the AV1 codec.
Finally, by adding Apple (Samsung, and Tencent) to the already impressive list of AOMedia founding members companies like Amazon, ARM, Cisco, Facebook, Google, IBM, Intel, Microsoft, Mozilla, Netflix, and NVIDIA, all major brands and companies are now involved in AOMedia which is a strong signal that AV1 is becoming a mature codec and a real alternative to HEVC and the standards groups MPEG and VCEG.
Bitmovin and AV1
Bitmovin has been a long-time contributor to AOMedia and the implementation of the AV1 codec. Bitmovin was the first company to integrate AV1 support for both live streaming and video-on-demand which contributed to Bitmovin winning an award of Best of Show for NAB 2017 from Streaming Media Magazine.
In addition, Bitmovin and Mozilla, the creator of the open-source Firefox browser, collaborated to create the first end-to-end AV1 workflow from cloud encoding to browser playback. At the time Apple hadn't announced their involvement with AOMedia and AV1 and some media outlets went so far as to characterize this collaboration as a threat to Apple! CNET's headline on the partnership read "Firefox challenges Apple with 4K-friendly video tech."
Getting started with AV1
Unfortunately, despite AV1s growing interest in the world of video streaming we have yet to see widespread adoption of the AV1 codec (in 2021), so we're thrilled to have Apple join the AOMedia consortium and accelerate these efforts. If you haven't explored AV1 for your video workflow, now is the time to learn more, and we're here to help!
AV1 is the next generation video codec and is on track to deliver a 30% improvement over VP9 & HEVC – Learn about Bitmovin and AV1
More AV1 Resources: