PULS 4 Success Story
PULS 4 is the leading private TV broadcaster in Austria. They offer linear TV as well as live streams at www.puls4.com. PULS 4 is part of the ProSiebenSat.1 Media group. Bitmovin provides cloud-based encoding services as well as the HTML5 and Flash video player ensuring a reliable webcast of the PULS 4 live streaming events.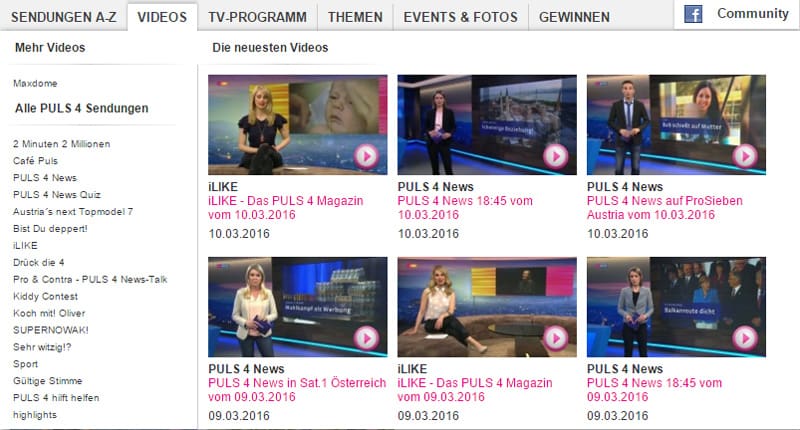 PULS 4's Core Challenges of Live Streaming Events
need to live stream several times a month for a couple of hours with a cost-efficient infrastructure that is available when needed
cover all devices and platforms – desktop, tablets, smartphones
deliver highest video (HD/Full HD) and audio quality without buffering
possibility to use their own Content Delivery Network.
"We stream a lot of unsteady live events. For us it's most important to work with a partner where we can use live streaming capabilities as we need it. We have no fixed infrastructure costs and we need no dedicated team to stream the live events due to the usage of Bitmovin's cloud-based encoding service", said Andreas Zierhofer, Innovation Manager at PULS 4.
Bitmovin's Solution: MPEG-DASH Live Streaming
How did Bitmovin Address the Requirements of PULS 4?
Bitmovin's cloud-based encoding service, processes a 10Mbps RTMP input stream and encodes the origin content to several qualities – 250kbps to 3Mbps – with quality levels for all devices – 240p, 480p, 576p, 720p, 1080p. This platform delivers high definition MPEG-DASH live streaming as well as adaptive Video on Demand streaming files.
Flexible distribution using scalable HTTP Content Delivery Networks. PULS 4 uses their own CDN for distributing the live events.
Bitmovin's HTML5 MPEG-DASH and HLS player based on HTML5 and Flash ensures the perfect video and audio playback of the encoded content on all devices and platforms.