LIVE: IBC Edition – VidTech sessions for all in the OTT industry
Bitmovin's next Virtual Event Series Live: IBC Edition, which includes content applicable to all regions across the world, is taking place between September 8th – 24th.  This content-rich virtual event will focus on how to innovatively reduce the cost of video distribution, app development, and optimizing video workflows with a plethora of tools. For our 3rd event series, we're joined by some great partners and clients alike, like Dalet, Dolby, Google, Google Cloud Platform, IABM, Intertrust, Looker, Streamroot, Sky Studios, Teleport Media, Variety, ViacomCBS, and more!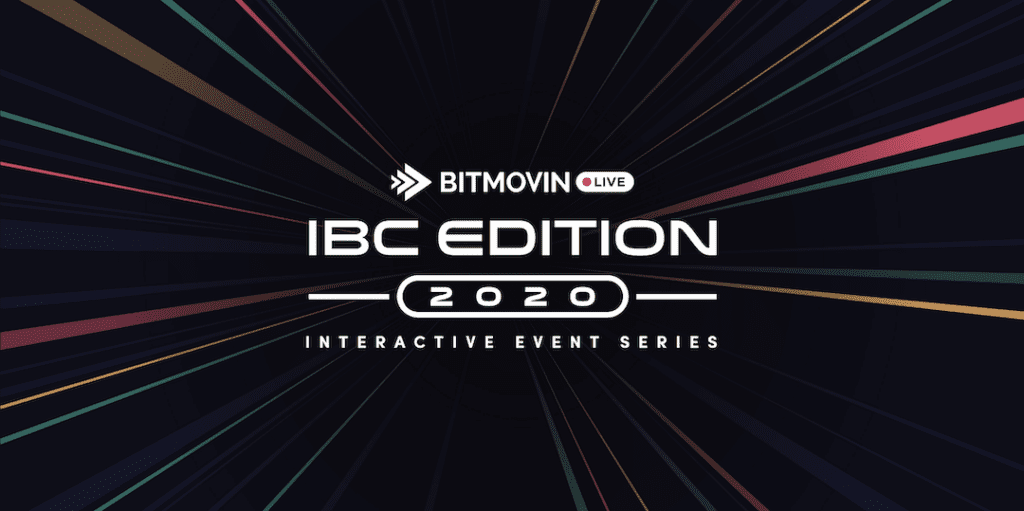 These events are broken by content that anyone within the OTT industry can enjoy, from technical deep dives around codecs, compressions, and super-resolution, to high-level discussions and panels for decisionmakers around how to succeed in the global streaming industry. The International Trade Association for Broadcast & Media (IABM) stated:
"The Bitmovin Live series has demonstrated how it has been possible to adapt quickly and effectively to an online-only conference format in response to COVID-19," said Ben Dales, Digital Media Manager from the broadcast and media technology industry trade group IABM. "IABM has long been a champion of collaboration, and with Bitmovin Live: IBC Edition, we are impressed to see Bitmovin expand its involvement to partners, industry leaders, and sometimes even competitors in the spirit of providing a place for the community to thrive despite the global challenges."
Roku, Google, Sky Studios, ViacomCBS, Bitmovin Execs to Discuss Succeeding in Global Streaming Economy
This session will be an exploration of how streaming services are expanding internationally. Learn about the best business practices that your service must implement to succeed at a global scale, from content creation & distribution to your back-end workflows like SSAI, content protection, and compression. This high-level panel discussion will bring insights from the biggest live and on-demand OTT services on the market, Roku, Sky Studios, YouTube, and ViacomCBS. Featuring:
Sign-up to view the Variety moderated session Sept 10th: Roku, Google, Sky Studios, ViacomCBS, Bitmovin Execs to Discuss Succeeding in Global Streaming Economy
LIVE: IBC Edition – Virtual Event Innovation with VR
Bitmovin is dedicated to using new and innovative ways of interacting with event participants.  As a complement to the usual programming of webinars, tech talks, and panels, it has created a "Virtual VR Event Booth," a space that can bring prospects and customers closer to Bitmvovin's employees and services. 
"The 'Virtual VR Event Booth' will showcase a high-level overview of Bitmovin origins, the value the company brings, as well as a look at the solutions and products that are offered," said Jamie Attfield, Head of Design at Bitmovin.  "Attendees are also free to explore an assortment of collateral pieces that can be downloaded to their machines and devices for further reading. This experience will be accessible on mobile, desktop, and Oculus Quest, bringing a new perspective on how the company can communicate in the digital realm.
Evolving SVOD and AVOD for a new world – How 2 leading providers with very different business models see growth in a reshaped world (with IABM)
The closing event will be a panel session featuring IABM and top next-gen broadcast leaders, Britbox and Freesat as we discuss how they successfully innovated their AVOD and SVOD strategies to capture market share in a quickly changing global media market. This session will be hosted and supported by IABM's industry insights and commentary on September 23. Sign here: Innovating AVOD and SVOD strategies
LIVE: IBC Edition additional sessions during the event include:
September 8th – Behind-the-scenes: Insights into the new virtual video industry era. The session will address that "the new normal" is here to stay and how companies have been adjusting their business models to optimize costs and continue to deliver high-quality viewer experience.  
Featuring:
Jure Žlak

, Sales Director, Beenius

Xavier Leclercq, VP Business Development, Broadpeak

Matej Puhan, Sales Director, Castoola
Jin Soon Brancalhao, Field Marketing Manager, Bitmovin
Teddy Zeskind, Partner Manager, Bitmovin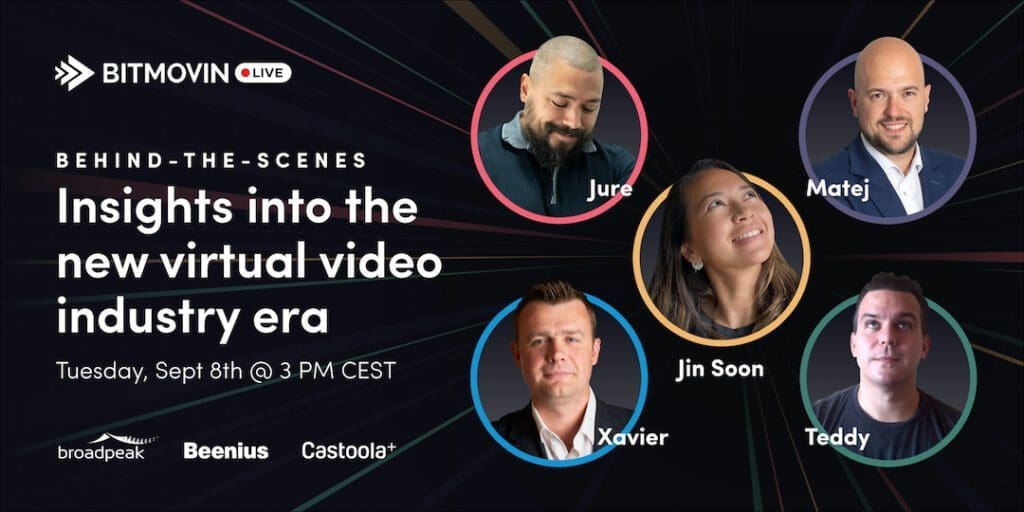 September 10th – A case study review of how Dalet + Bitmovin solutions can help you innovate your sports content OTT strategy.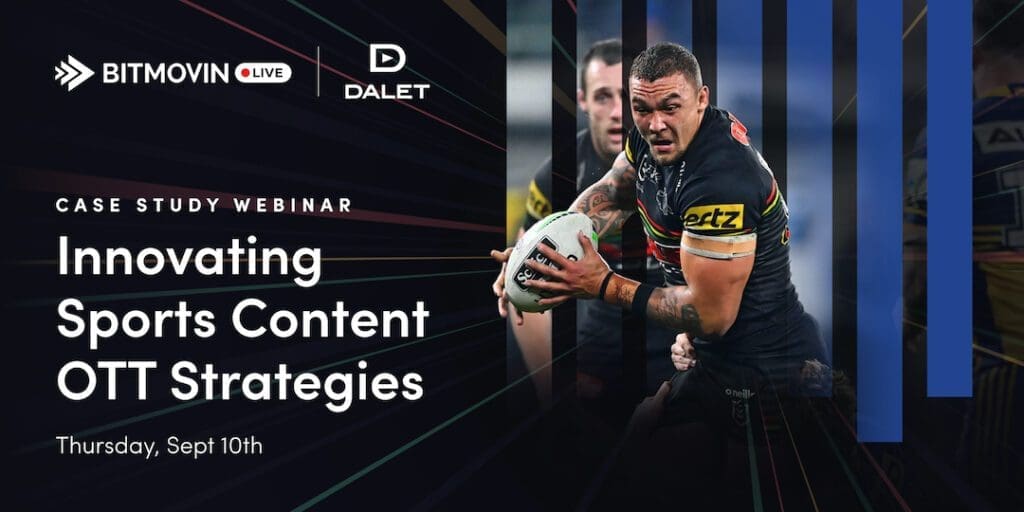 September 14th – There's a Fix For That: the Top 5 OTT Video Challenges … and How to Fix Them! – Bitmovin's CTO Chris Mueller and head of product Reinhard Grandl tackle the top 5 challenges for OTT video providers with real-world examples of straightforward technical solutions to materially improve the long-term business outcomes for streaming operators. 
September 14th – Encoding where it matters: How will the changing demand in content type affect your workflows? – Join Peggy Dau and Women in Streaming Media as they discuss the most critical factors in developing your future video workflows. 
September 16th – How VuClip Achieved Scalable, high-performance Video Encoding with Bitmovin on Google Cloud – Join Google Cloud's Solutions Engineer, Chris Hampartsoumian, Vuclip's Technical Product Manager, Praveen Singh, and Bitmovin's Solution Director, Adrian Britton. Vuclip will cover why time is so critical to effective delivery and how a cloud-based encoding solution reduced their costs. 
September 17th – Wow your audience: Unleash the creative potential of Dolby Atmos and Dolby Vision with Bitmovin Encoding into a unified workflow – Sound design and effects are a crucial part of filmmaking that elevate your viewer's quality of experience. Hear from Dolby experts about the versatile use cases and capabilities of Dolby Atmos and Dolby Vision. Learn how to create workflows and mezzanine files using cloud-based techniques. 
September 21st – State of Streaming: Bitmovin's 2020 Video Developer Report – Bitmovin's 4th Annual Video Developer report is here! Bitmovin will review the top-level results of its survey and define what some of the most important video tech trends of 2020/21 are for OTT services around the world. Learn about what developers and project managers are seeking in the VidTech workflows as well as the technologies they hope to implement in the next 12 months. 


About Us:
Built for technical professionals in the OTT video market, Bitmovin's software solutions help you optimize customer operations and reduce time-to-market, resulting in the best viewer experience imaginable. This is achieved through our device reach, flexible and scalable integration, and commitment to supporting our customers. Learn more at www.bitmovin.com.