The Bitmovin Streams Plugin allows WordPress users to quickly install adaptive video content into their WordPress website with all of the features of our Streams solution
Embedding and streaming video over WordPress has just gotten easier! We're excited to announce our dedicated WordPress plugin for our Bitmovin Streams solution. This allows companies looking to launch their video platform or currently have video on their WordPress-built sites can streamline their video workflow and get streaming immediately.
What benefits come with using Streams?
Along with the latest WordPress plugin, the Bitmovin Streams solution provides additional benefits across the entire streaming workflow. It gives teams access to one simple end-to-end solution that includes all our industry-leading streaming services, making it easy for you to get going fast. With Streams, you'll be able to:
Ensure your content streams in the highest quality possible and is adaptive to your viewer's internet. We automatically analyze your content, transcode it in the best possible quality, and provide multiple resolution options. This way, your users can view your content based on their internet connection and don't have to wait for a better connection for the video to load.
Customize and style the Bitmovin Player to your brand, giving users a consistent and quality experience when watching content on your platform. This helps keep people on your platform without external links to service providers such as YouTube.
View real-time Analytics. Our Streams insights feature provides you with in-depth, real-time analytics data about your user's behavior, the quality of the stream, and much more. Learn how many have watched your video, the drop-off rate, the average viewing time, and the location where viewers are watching from.
Enable content protection and monetization through pre-integrated workflow features. Once more users view your content, monetization, and content security become key. We are currently implementing ad support so you can monetize your content and protect it with DRM.
Streams WordPress plugin is focused on enabling new and existing platforms to get to market fast with their easy-to-use Dashboard UI and API's to host, encode, embed and stream video content easily
How it works
We've made implementing Streams simple to empower anyone of any background to upload a video file or connect their live input, host, embed, and stream to audiences worldwide in the highest quality.
To get started, you're going to need the following:
A WordPress account and webpage
A Bitmovin account (check out our 30-day free trial, which after the trial can be set to pay-as-you-go and includes free Player and Analytics impressions and VOD and Live Encoding minutes)
After you've got that done, you can add Bitmovin's Streams solution to your WordPress website quickly by following these steps:
First, go to your WordPress backend's Plugin section and click Add New.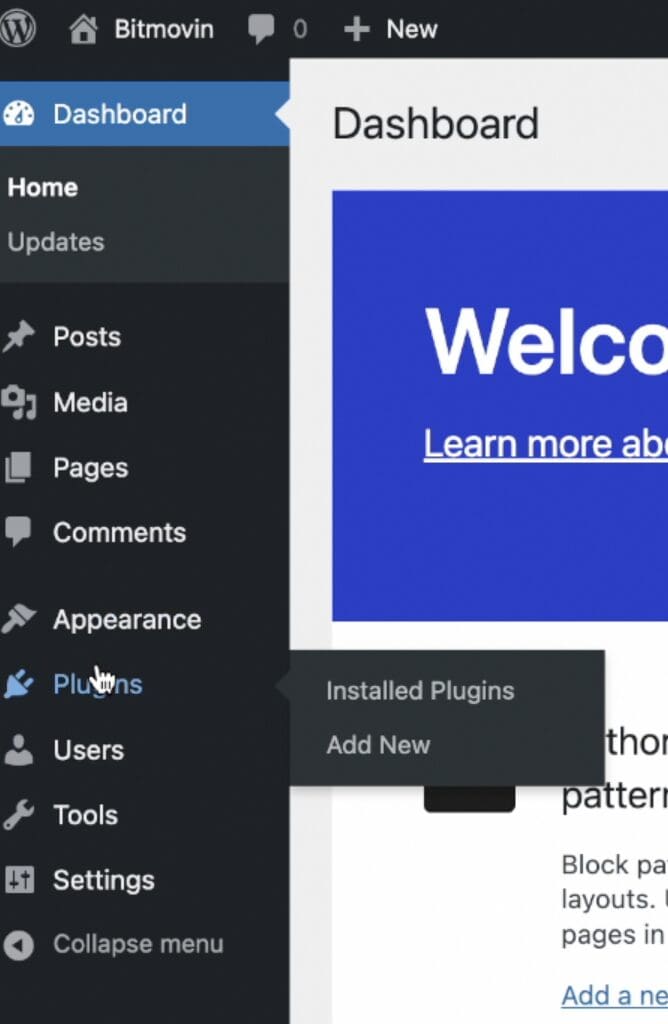 Next, search for Bitmovin Streams, where you can apply it from the WordPress marketplace.
After downloading, click Activate on the downloaded plugin.
Then you'll need to add your Streams API key, which you can find by logging into the Bitmovin dashboard and going to account settings.

Copy the API key, paste it into the Bitmovin Streams plugin, and save the changes.
Create a new page on your WordPress backend and select the Bitmovin plugin when opening the editing options.
Upload your content by dragging or uploading the file directly into the upload section and the video will be automatically loaded and start being prepared for usage
After the file has finished preparation, it will show on your page, and you can save or publish your changes and enjoy the result!
You will see the video available in the video player, and it will be available in every rendition set once the file has completed encoding. After you've embedded your content and made it available for your audience, return to the Bitmovin Dashboard to view your stream analytics. You can find more details in our documentation and a frequently asked questions section that may help you answer any questions about Streams.
Accessing Bitmovin's video streaming solutions
Signing up for a Bitmovin account is completely free and enrolls you in our 30-day trial. You'll have access to our industry-leading products, including Streams, enabling you to test and utilize our solutions without any upfront cost. After the 30-day trial, you can transition to our pay-as-you-go (PAYG) plans, which are month-to-month and solely based on usage, giving you access to over 10,000 free player impressions and 2,000 free encoding minutes monthly.
Check our latest WordPress plugin out today and get streaming!