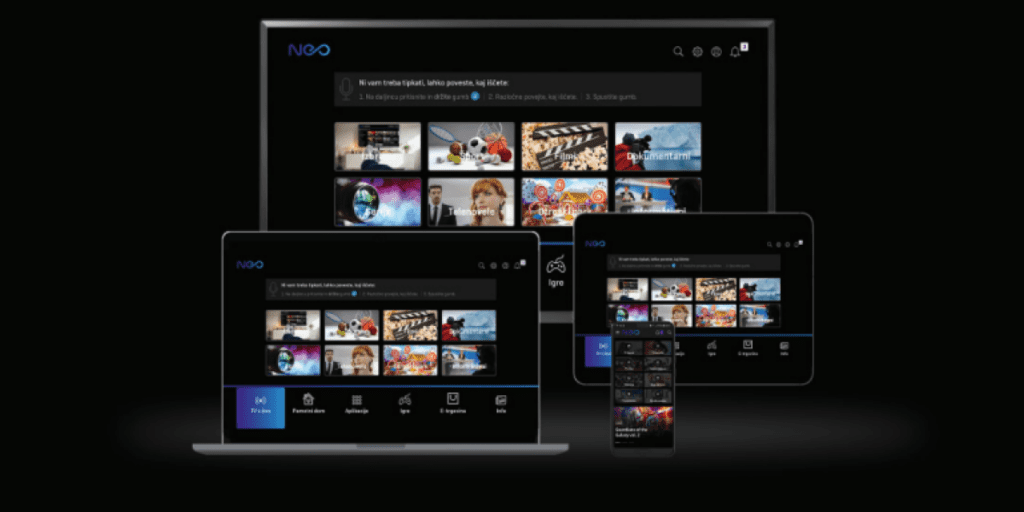 In late 2018, Telekom Slovenije launched NEO, a next-generation home entertainment platform that integrates an open, secure, cloud-connected, state-of-the-art smart home solution, which also supports Pay-TV services, gaming and e-commerce. It provides its users with the ability to centrally manage all TV/web content through the use of voice commands in their native language.


Challenges
Telekom Slovenije needed a player that was able to offer high-quality online experiences by seamlessly delivering streams to all major browsers on different devices, such as TVs, Smartphones, Tablets, PCs. The number of devices being used by consumers to access NEO led to another challenge: the ability to provide customizable UIs that are consistent across all devices. Finally, Telekom Slovenije needed all content to adhere to the stringent content protection standards required by broadcasters and studios. Telekom Slovenije previously had challenges with multi-DRM integration via open source players. What the operator needed was a multi-DRM player that could simplify the process, while ensuring that premium content was fully protected.

The Solution
The Bitmovin player was chosen for its multi-DRM support and cross-platform compatibility, which enables NEO's users to seamlessly stream content, regardless of which device they are using. The unified API approach of the Bitmovin Player and its SDKs for iOS and Android were also a deciding factor, allowing Telekom Slovenije to bypass specialized, disparate player stacks for the initial development and ongoing support.
This enabled the Telekom Slovenije engineering team to focus on developing unique features on top of Bitmovin's technology. Close collaboration between the development teams ensured the compatibility of these features across all platforms.

Benefits
With NEO, Telekom Slovenije took the boundaries of multiscreen services to the next stage, enabling users across multiple geographies to watch the content they want, on the platform they want, whenever they want. As the cord-cutting phenomenon continues to grow, being able to innovate through services that consumers truly want to use was a real game-changer for Telekom Slovenije. The use of Bitmovin's Player and Analytics also enabled Telekom Slovenije to focus its effort on activity that truly makes a difference.