Over the past 3-4 years, each industry that streams video has changed significantly. Depending on the company's size, cloud adoption for streaming workloads before 2020 was driven by leading-edge "builders" with the technical expertise and in-house resources to experiment. Now, we're in an era of early mainstream adoption led by "buyers" looking for comprehensive, reliable, and best-of-breed solutions that can replace or integrate easily into existing workflows. The need for cost-effective strategies, subscriber retention, and revenue generation have been the main drivers in this.
I saw this shift firsthand throughout each industry show and even more recently at our semi-annual Bitmovin Innovators Network event. There, clients and partners presented trending industry topics and successful use cases from projects we're working on with them that have helped create and define these "best-of-breed solutions." In this blog, I will highlight why partner relationships are essential for streaming platforms, recent successes, and what we mean by 'building better together' when we speak about Bitmovin's Innovators Network.
Managing costs and exploring vendor solutions with Paramount+
"Innovate with us," stated Tony McNamara as he started off the first presentation at the event. He emphasized that vendors should approach their customer relationships as a real-time collaboration rather than viewing the relationship from a transactional customer-vendor perspective. This is because customers are often closer to the actual problem than the vendor, which can incentivize vendors to work together with them to solve complex problems that otherwise would be beyond reach. Some customers will want turn-key solutions, but the innovation and tomorrow's advances are in solving today's issues in new ways, which the right "client" can be a partner in coordinating. This can, in turn, help solution providers expand their product features to tackle unique challenges and give them a small but noticeable advantage for at least the next 6-12 months.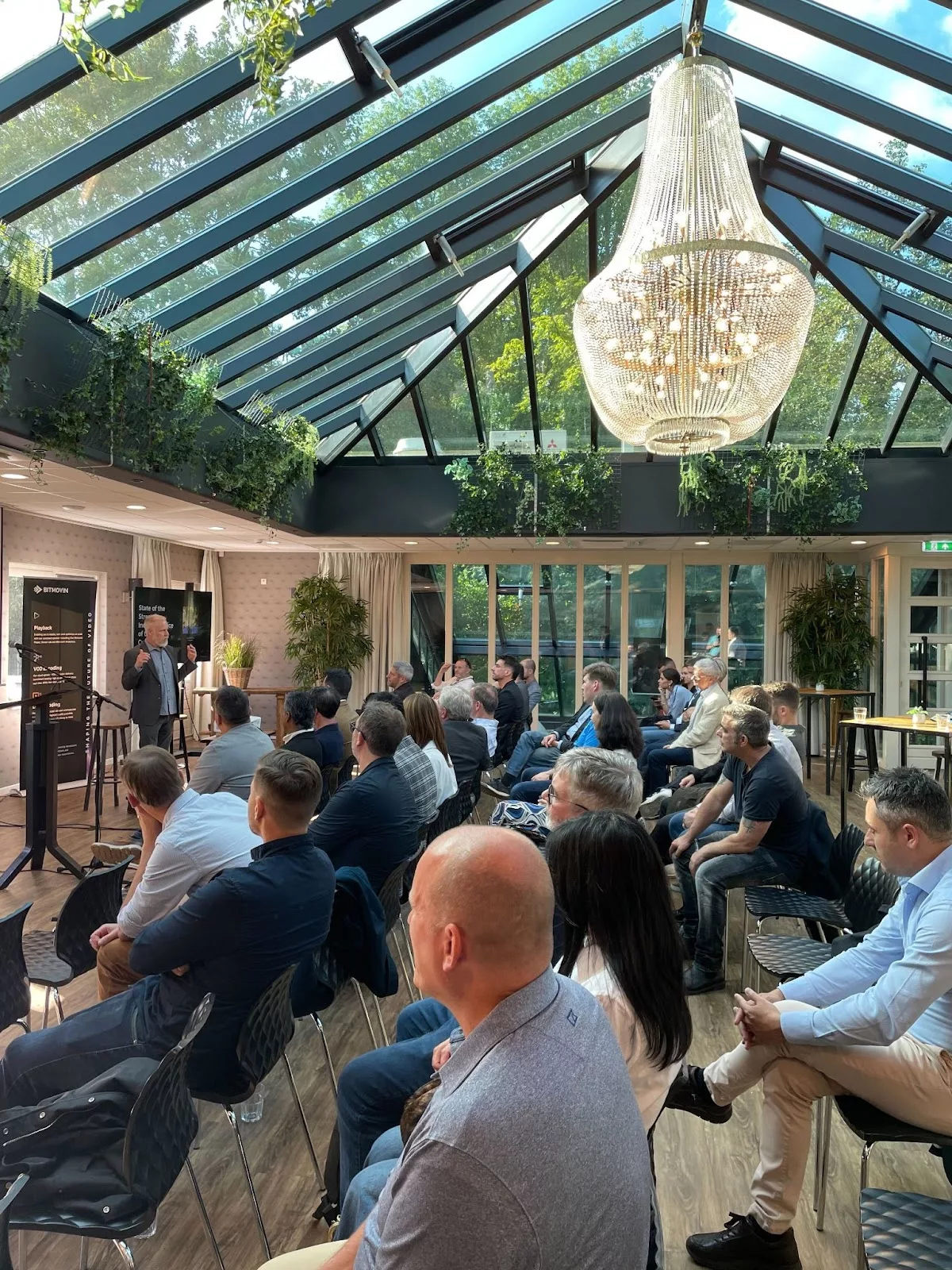 Continuing from talking about innovating with vendors, the topic of profitability came up. Economic pressure has been taking its toll on the industry, and as the economy tightens, companies are forced to explore different ways of generating revenue. "It is no longer just growth at any cost." stated Tony Mcnamara, "It's about getting to profitability, generating new sources of revenue (FAST, Ad supported tiers), and even looking within the business for ways to optimize processes and reduce spend."
This had become an objective for their dev team as they evaluated their internal processes, specifically for on-demand (VOD) encoding. They had built an in-house solution to handle their encoding needs, which excels for a rapid turnaround time but doesn't handle some of the more complex (e.g., HDR) encodes. They decided to split the processes – quick turn work using the internal encoder but for HDR/etc. needs, using Bitmovin – thus meeting their needs, minimizing trade-offs and costs, and allowing the internal development team to focus on their specific domain issues and innovations.
With this, the presentation had come full circle and back to why the "Innovate with us" statement rang true to every partner and streaming service in the room. Paramount had realized it was great to own the process internally. Still, the right vendor or "Partner" in this case, like Bitmovin, made it more accessible and helped avoid a good amount of headaches when it came to cost, functionality, and planning product features for future needs.
Powering Television New Zealand's sports streaming hub sustainably
As sustainability has become a major talking point in the industry, streaming services worldwide have made optimizing their video workflows for the environment in the best way possible a core focus. This was the main topic for the second presentation by Accedo on TV New Zealand, a public broadcaster that had just recently won a selection of premium sports rights and was focused on deploying the best possible experience for its end users and a greener video workflow for their entire service including the newly acquired sports rights.
Accedo's local Pro Services team has worked with TVNZ for multiple years and was tasked to test and validate various video players. The choice was obvious: the Bitmovin Player was the only one who delivered on all the criteria. With TVNZ's goals in mind, they wanted partners to help them achieve their initiatives while giving their users the best viewing experience possible. This is where Accedo and Bitmovin's "Better Together" collaboration came into play.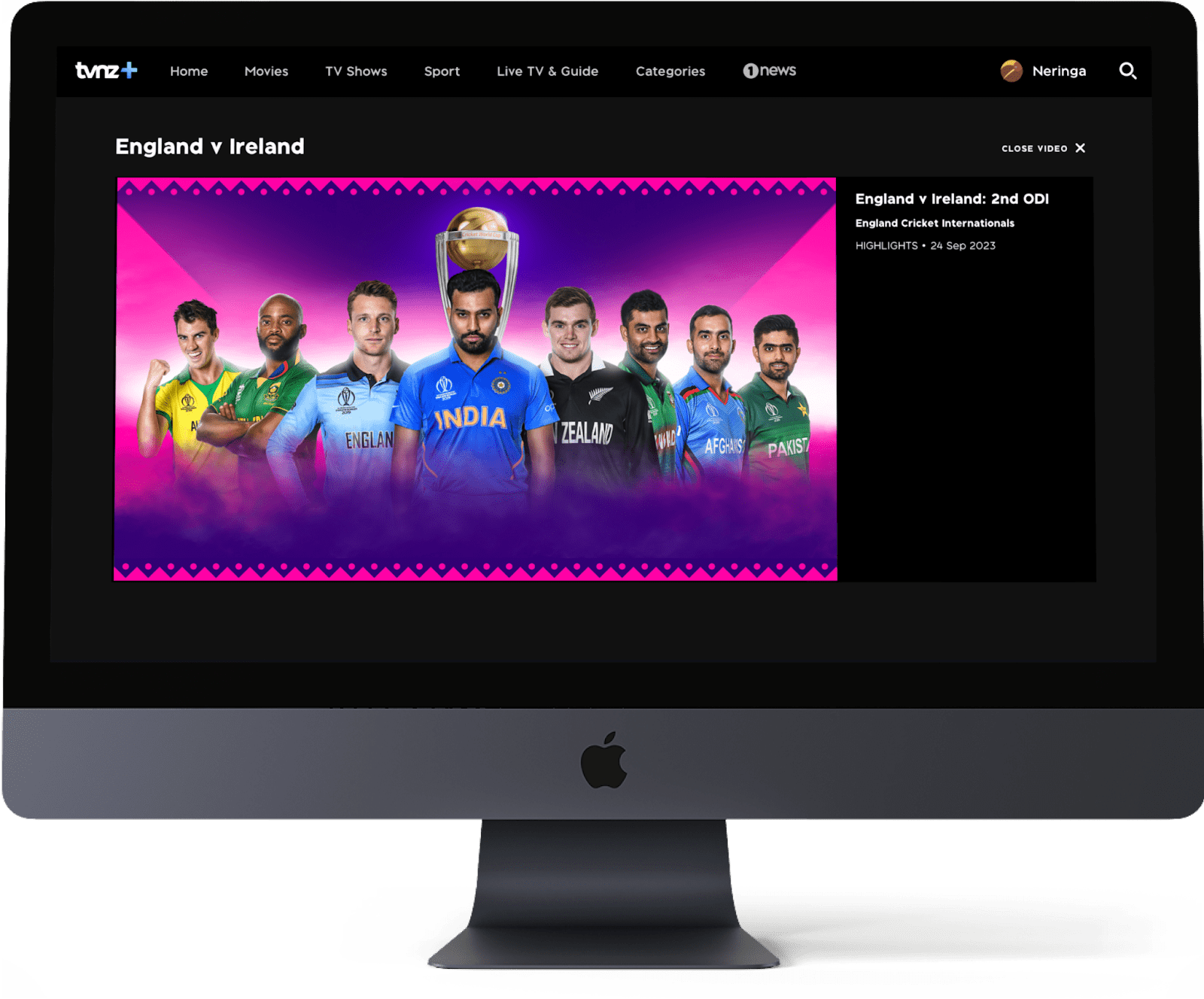 Video processing and streaming are responsible for a significant portion of carbon emissions, so Accedo's launch of their sustainable marketplace and Bitmovin's ECOMode for the Player were the perfect fit for this project. By collaborating closely, they solved any issues that arose and got the correct stream configuration to help TVNZ reduce carbon emissions, stream content more sustainably across all devices, and provide data on the carbon footprint for active streams to their viewers. Other partners complimented this group solution, namely EZDRM with their multi-DRM, which integrated seamlessly with Bitmovin's Player and delivered content securely on smart TVs and various other devices, making it easy for TVNZ and streaming services like them to protect revenue from high-value content like live sports.
With TVNZ and other streaming services, Accedo has made sustainability a top business priority. It encompasses both the solutions they offer and the partners they choose to work with, ensuring a positive impact on customers and the world. The multi-vendor "Better Together" collaboration helps OTT streaming services like TVNZ deliver the highest quality content while maintaining their commitment to sustainability.
"We needed to launch a comprehensive streaming platform in a short time frame after securing a selection of premium sports rights. Partnering with Bitmovin and Accedo ensured we were able to put in place a high-quality video streaming solution with the appropriate content protections. Importantly, our viewers were able to watch their favourite sports uninterrupted and with ease from day one. The feedback we've received has been fantastic and we're looking forward to a big summer of cricket ahead of us"
Kym Niblock, TVNZ's Chief Product and Information Officer.
Enabling a major US basketball league to stream and captivate their viewers globally
In the third and final presentation, Mediakind and Microsoft presented how MediaKind's live and on-demand streaming platform running on Microsoft Azure infrastructure with the Bitmovin Player helped a major US basketball league stream billions of views to millions of viewers globally. This major US basketball league wanted to revitalize its streaming application, driven by its goals to assert greater control over its platform, harness user data for an improved experience, and, most importantly, continuously captivate and engage its fanbase.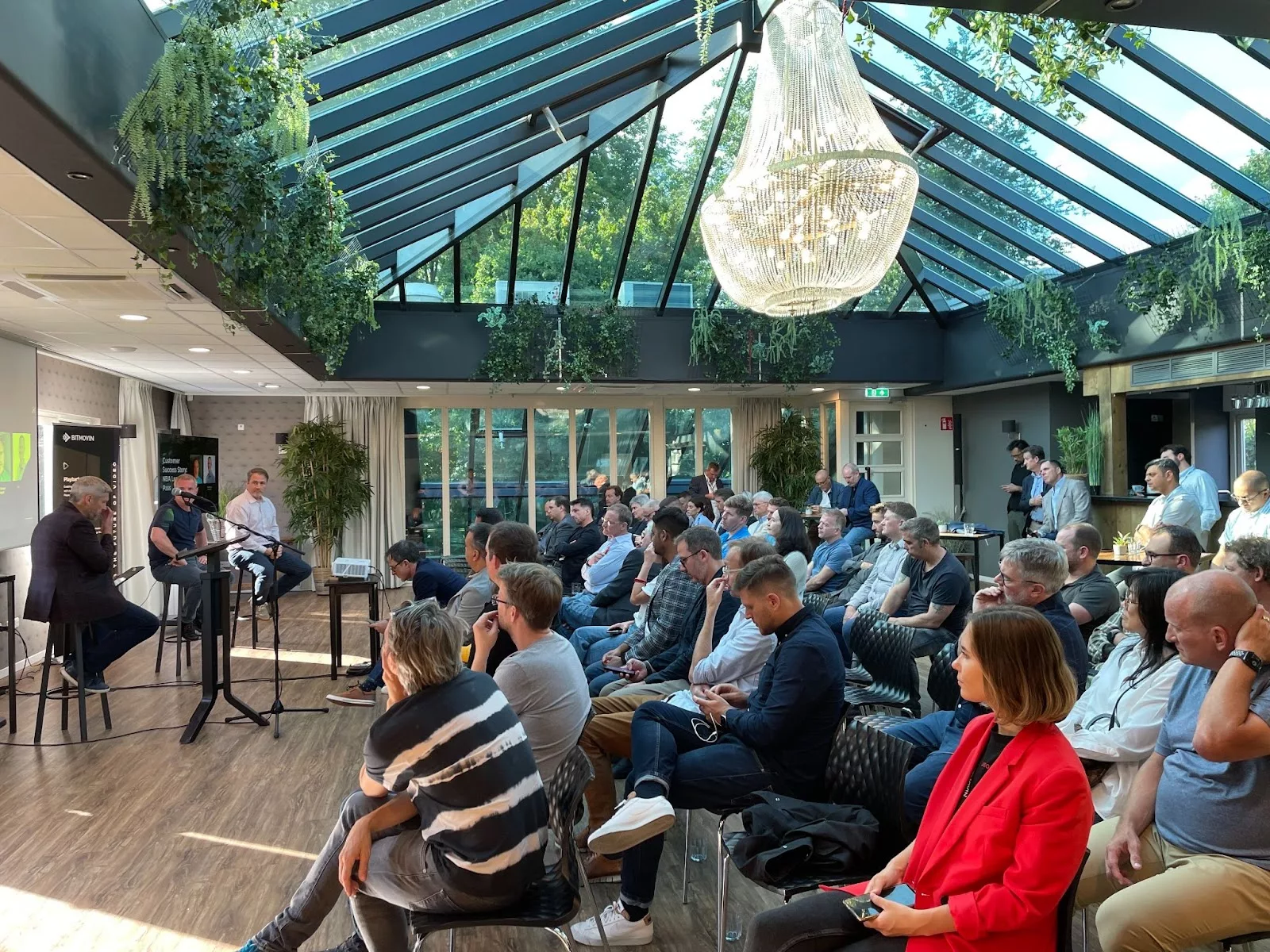 This endeavor represented a significant challenge that involved meticulously piecing together various technical partners to provide a best-of-breed solution. From their perspective, the streaming application project was not only about delivering personalized content but also about laying a foundation for the future of how they would engage their audience.
Bitmovin played a vital role in this complex venture, collaborating closely with Microsoft and MediaKind. This partnership was essential to achieving remarkable results, particularly regarding uptime, reliability, and quality.
This solid foundation allowed the major US basketball league to realize its vision—a globally scaled, secure cloud solution built with dependable infrastructure and cutting-edge data and AI capabilities. With this in place, the league had the tools to innovate, adapt, and provide its fanbase with an extraordinary streaming experience. The success of this solution underscored the importance of the approach in addressing the various requirements of modern streaming applications and utilizing the right partners to build better together and set a new standard for reliability and user satisfaction in the industry.
Why the Bitmovin Innovators Network Matters to OTT Providers
Through all of the presentations, the main item that was portrayed was how building "better together" was the only possible way any of these successful outcomes could have been achieved. The Bitmovin Innovators Network transcends conventional industry collaboration, evolving into a vibrant community that unites top-tier technology vendors, systems integrators, resellers, consultants, and leading-edge research institutions. This collaborative ecosystem is dedicated to streamlining the complexities of live and on-demand media workloads. Our overarching mission is to democratize streaming, making it accessible and efficient for both media and non-media organizations.
In this interconnected network, knowledge-sharing and resource synergy are the driving forces. We harness collective expertise to craft innovative solutions that empower media companies to deliver outstanding content experiences. Simultaneously, we introduce non-media entities to the transformative potential of streaming technology. This network stands as a testament to the power of innovation, simplifying the world of streaming video for all involved parties.
Conclusion
Cooperation, innovation, and sustainability are essential for every streaming service and technology vendor, and finding the right balance between in-house solutions and external offerings is crucial for cost-effective growth. With how increasingly competitive the space is getting and economic pressure taking its toll, it's clear that multi-vendor collaboration is needed more than ever.
Partnerships like those between Paramount+ and Bitmovin, TVNZ with Bitmovin and Accedo, and the major US basketball league with Microsoft, MediaKind, and Bitmovin demonstrate the power of what collaboration and building better together can do in this industry. The Bitmovin Innovators Network further highlights the importance of this in simplifying streaming challenges and making a more accessible and sustainable future.
You can check out the many partners in the Bitmovin Innovators Network on our website and enquire about joining by contacting our partner team.